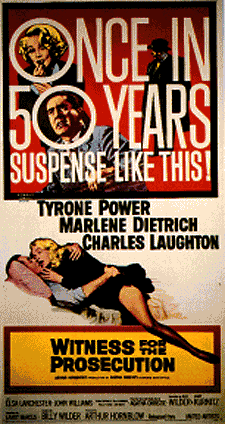 Image courtesy
Nostalgia.com and IMDb
USA, 1957
Charles Laughton, Tyrone Power, Marlene Dietrich
Directed by Billy Wilder
116 minutes
Legendary barrister Sir Wilfrid Robarts (Charles Laughton) is recovering from a heart attack, and has another one queued up waiting to happen if he doesn't stay away from brandy, cigars, and--above all--the courtroom. But when American expatriate Leonard Vole (Tyrone Power) is arrested for the murder of his wealthy and much older female companion, Sir Wilfrid perceives an opportunity to don his powdered wig and make his longed-for return to the bar. Vole's case is the kind of uphill battle Sir Wilfrid relishes, but the defense is dealt a devastating blow when Vole's wife Christine (Marlene Dietrich), upon whose testimony his defense heavily depends, becomes deeply reluctant to cooperate, ultimately testifying as a witness for the prosecution. As Sir Wilfrid fights to salvage his case in the wake of Christine's betrayal of her husband, the ailing attorney is thrown into a blizzard of unclear loyalties and hidden motives, and begins to wonder if he--the greatest lawyer in England--has finally met his match.
Witness for the Prosecution, director Billy Wilder's 1957 film of Agatha Christie's novel, is the ne plus ultra of courtroom dramas, its numerous dramatic plot twists setting a standard that survives to this day. Released the same year that "Perry Mason," the archetypal predictable courtroom series, debuted on television, Witness kept audiences on their toes until the very end, punishing those who were foolhardy enough to believe they knew where the picture was going. Studio publicity entreated the critics and the moviegoing public not to spoil the ending for those who had not seen it, and those who went in unspoiled were rewarded with a rich, densely layered plot featuring Wilder's trademark vivid dialogue and dark, ambiguous characters.
Witness features three of Hollywood's fondest actors on the downward slope of their careers. Charles Laughton is not as well-remembered today as Laurence Olivier or Richard Burton, his classically-trained British contemporaries, but the homely, talented actor made his mark in dozens of films spanning more than three decades, playing characters such as Captain Bligh in Mutiny on the Bounty (1935), the title character in The Hunchback of Notre Dame (1939), and a folksy, obstructionist Southern senator in Advise and Consent (1962). As Sir Wilfrid, the flamboyant barrister, Laughton steals the show from his two higher-billed costars, and it is his performance you are most likely to remember. Tinseltown idol Tyrone Power, in his last role (ironically, it was the dashing Power, rather than the sclerotic Laughton, who was dead of a heart attack less than a year after Witness for the Prosecution opened), is mostly wasted as the defendant, unfortunately, but legendary vamp Marlene Dietrich demonstrates that even well into her fifties she is able to bring the dangerous seductiveness that made her a star.
Points to ponder:
Miss Plimsoll, Sir Wilfrid's long-suffering nurse, is played by Elsa Lanchester, Charles Laughton's real-life wife. You may remember her as the Bride of Frankenstein.
"Plot twist" is something of a pejorative term these days, as jaded critics and viewers boast of their ability to predict how films will be resolved and scoff at filmmakers' attempts to use the unexpected as a means of elevating pedestrian plotlines. How effective are the twists and turns in Witness to the Prosecution's storyline? Do they surprise you?